MEDPhysio in Clinic and Research
For the interested public
PRESS SERVICE
21st of June 2017 215/17 Research
Project with a model nature: Studies of physiotherapy and human medicine interlock
Oldenburg/Osnabrück. The Osnabrück University of Applied Sciences and University of Oldenburg are broadening their cooperation in teaching and research of healthcare; the project "MEDPhysio in clinic and research" is interlocking the teaching of human medicine students in Oldenburg and physiotherapy students in Osnabrück. The Robert Bosch Stiftung supports the project with 75.000 euros.
The project speaker Prof. Dr. Christoff Zalpour emphasizes that "the cooperation between different healthcare professions for the patient's well-being has to be improved". He both teaches and researches in the field of physiotherapy in Osnabrück. "Thanks to the support we received, we, as a university in the northwest of Lower Saxony, now have the opportunity to increase the cooperation of teachings in the healthcare system and especially to further increase the quality of these courses of study."
Prof. Dr. Gregor Theilmeiser, professor for experimental anaesthesiology and head of the department Perioperative Inflammation and Infection of the University of Oldenburg, is convinced that "with joint interprofessional teaching modules during studies we will be able to strengthen the interprofessional communication for future professional environments. Due to this the patients' care will also improve."
Including the program "Operation Team – interprofessional learning in health professions", the Robert Bosch Stiftung supports 16 regional cooperation projects nationwide, who aim to prepare future physicians, nurses and therapists for cooperation in an interprofessional team even during their training. To achieve this, the universities, universities of applied sciences and non-academic training facilities establish new and interprofessional course units. For this the Robert Bosch Stiftung provided a total of two million euros.
Goal of the now approved cooperation project in Oldenburg und Osnabrück is the education of human medicine and physiotherapy students in the areas "scientific work" and "interfaces between physiotherapeutic and medical care for the patient" in practice orientated courses on both university locations. To aid this, training programs are going to be developed and implemented during the next two years. The area "scientific work" will be placed in Osnabrück, the course concerning clinical cooperation is going to be situated in the Evangelic Hospital Oldenburg in the clinic for trauma surgery, orthopaedics and sports traumatology, which is managed by PD Dr. Oliver Pieske.
The project began in June 2017 and runs until 2019. By then the integration of newly developed study contents in the curriculum of both courses of studies should have been achieved.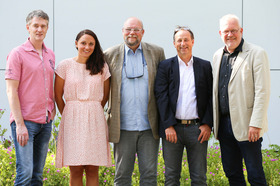 Networking "Operation Team – Interprofessionelles Lernen in den Gesundheitsberufen"