Incoming Students
Faculty of Business Management and Social Sciences
You are interested in spending a study or internship stay in Germany? International students are very welcome to join Osnabrück University of Applied Sciences (OS UAS)!
Should you wish to learn about the German higher education system or the German working methods, culture, language and way of life, you will receive an insight into your options on this page.
Visiting students will find our course catalog, the admission requirements, details on the application procedure as well as their contact persons - please feel free to ask us if you have any question.
Why Osnabrück University of Applied Sciences is a good choice
You want to study a complete Bachelor's or Master's program at the Faculty of Business Management and Social Sciences (BMSS) in order to attain a degree?
An overview of our degree programs as well as useful information to prepare your study stay in Germany are given on the central university page: Degree-seeking students. Our "Handbook for international students" can also provide you with helpful tips and advices (PDF for download top right of this website). Moreover, the offers mentioned under Service for international students are relevant for you.
Our faculty presently offers two degree programs which are run completely in English:
Bachelor: International Management (B.A.)
Master: International Business and Management (M.A.)
Details on the admission requirements and application procedures can be found on the homepages of the degree programs or at: Information for an application with foreign documents
Please note: You cannot apply for a study place on this website for incoming students. The online registration here is exclusively destined for the visiting students of our faculty.
Visiting students for us are exchange students from partner universities with which we have concluded a cooperation agreement.
Overview of the universities cooperating with us: Partner universities
Among these students are dual degree students who come within a special arrangement and aim to achieve a Bachelor's or Master's degree at our university. All other visiting students cannot attain a degree from us.
Exchange students can stay in general for a minimum of six months (one semester) or a maximum of one year (two semesters) to study or to do an internship or a combination of both. Dual degree students partly stay longer than two semesters. For an Erasmus study you must spend at least three months in Germany, for an Erasmus internship minimally two months.
An enrollment at Osnabrück University of Applied Sciences (OS UAS) can however be enabled for a minimum of three months only. Students, who stay for a shorter term, cannot get a student ID card incl. a public transportation ticket from us, but we offer the following services instead (in Osnabrück only, not in other towns): access to student canteens, library and university computers, accommodation, authorization card for buying reduced bus tickets.
At the beginning of every semester, all incoming students must pay the semester fee.
To prepare your study or internship stay in Osnabrück in an optimal way, you will obtain further useful information inter alia on housing, visa, insurances, financing, costs, internship, summer and winter programs during the semester breaks on the central university pages for visiting students and in our "Handbook for international students" (PDF for download top right of this page).
Details on the admission requirements and application procedure: Online registration as visiting student
We also accept visiting students who come to us as freemover students and who are enrolled at a university outside Germany which does, however, not have a cooperation agreement with Osnabrück University of Applied Sciences (OS UAS). You may study with us for one to two semesters but you cannot attain a degree. If you are interested in doing an internship in Germany, you can do so in your second term but you must organize it on your own.
Free movers must pay the full semester fee. You may deduct the administrative charge from this amount in case you receive a financial grant which is mainly financed by the German state, e. g. a scholarship of the German Academic Exchange Service (DAAD) (page in German only) or of the German Association for International Cooperation (GIZ).
You can inform yourself about further offers, costs and financing options as well as on the single steps to prepare your stay in Osnabrück on the central university pages for visiting students and in our "Handbook for international students" (PDF for download top right of this page).
Details on the admission requirements and application procedure: Online registration as visiting student
Carlotta Nardiello from Italy:
I love all the university facilities and buildings – everything is new, modern and clean. There is a variety of courses you can choose, and the professors are very good in teaching. You can do a lot of project work where you can learn about different cultures and have fun learning at the same time. I think Osnabrück (Germany) is the perfect place to spend 6 or 12 months as an exchange student. I feel very comfortable and safe here. I can say it is a peaceful place. The town is very quiet and full of green, flowers and trees. The colors of the four seasons are beautiful. I would say thank you Osnabrück – here I spent the best year of my life!

Roberto Mata from Mexico:
I leave Osnabrück really happy because I managed to realize my dream of studying abroad in Germany. I managed to meet locals, to improve my language skills and to do things that were outside my "comfort zone". All that was an experience that can't be bought with anything.

Ainekisha Mwombeki from Tanzania:
Osnabrück is a pretty little city where people from different countries encounter one another. I felt good here because I experienced Osnabrück as a very open and international environment. All the people here are really friendly and communicative. The buddy program is perfect for getting in contact with other students at an early stage and a great help. Students from various countries, including Germany, lived in my student residence, and they only spoke German to us. That was good practice for the language, and they were also willing to help with all kinds of questions.
Online registration as visiting student
Study and internship as visiting student
Service for international students
New international students
In order to help you to orient yourself easily at our university and in our town at the start of your stay in Osnabrück, a buddy shall take care of you.
Buddies are local students of our faculty who shall, for example, pick you up at the station, assist you with the move into your residence room and shall also show you the university campuses. Your buddy supports you with the initial formalities (opening up a bank account, conclusion of a health insurance or registration at the Citizen Center unless this can be done during the group appointment arranged by the IFO) or can accompany you to a doctor, if desired. Further details on the buddy program can be gathered from our "Handbook for international students" (top right of this webpage).
This means you will have a helper and advisor in Osnabrück right from the beginning, and who knows: Maybe this will result in a lifetime friendship?
You do not have to apply for a buddy yourself. The International Faculty Office will select one for you and will send you the contact details before you travel to Germany. Afterwards you should get in touch with your buddy immediately. If the contact cannot be established for any reason, if you do not want to get a buddy or if you have questions, please write to: incoming-wiso@hs-osnabrueck.de
We would advise you to arrange a meeting with your buddy for your arrival in Osnabrück so that you can be picked up. Hence give your arrival dates to your buddy once you have finished your travel arrangements.
Application procedure for students of our faculty (prospective buddies)
Students of our faculty, who would like to take care as a buddy of an international student, can find all information on the application procedure and the tasks of a buddy on the Intranet.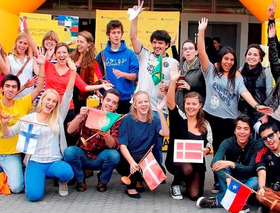 In the week before the classes begin, the International Faculty Office wants to give all international study beginners a warm welcome at the Faculty of Business Management and Social Sciences (BMSS). During our orientation days, we will introduce you to our university and service centers, show you the campuses and clear some registration processes with you. Moreover, the "meet and greet" event is a good opportunity to get to know the other international students and their buddies.
Unless you attend the International Language School German or the International Summer University, we strongly advise you to arrive in Osnabrück latest one week before our orientation days are held. Thus you will have enough time to clear important formalities, to make your accommodation your home and to take any required placement test. Visiting students will be specifically informed about the testing procedure by e-mail by the International Faculty Office.
For visiting students it is mandatory to attend the orientation days! We can tolerate your absence only if you can state a valid reason, e. g. examinations or other study obligations at your home university, delayed visa, medical treatments, etc. - private trips are no excuse! Please inform the International Faculty Office about your absence and late arrival.
The program can slightly vary from semester to semester. The International Faculty Office will e-mail the itinerary with the exact dates for the upcoming semester in due time.
Dates of the orientation days of the upcoming semesters: see Academic calendars

For more details on the initial formalities to be cleared after your arrival in Osnabrück, please read:
Arrival checklist for visiting students
Handbook for international students: see "Initial formalities upon your arrival"
EU students: How to book an online appointment at Residents' Registration Department - Bürgeramt Osnabrück
Contact International Faculty Office
Postal address:
Osnabrück University of Applied Sciences
Faculty of Business Management and Social Sciences
International Faculty Office
Albrechtstr. 30, 49076 Osnabrück
P. O. box 1940, 49009 Osnabrück
Germany
Address for visitors:
Caprivistr. 30 A
CB building
49076 Osnabrück
Germany