Our Talents – Talents for Green Transformation
Green transformation – what do we mean by this?
We are going through a time of transformation, and changing our way of thinking. Humanity faces many major challenges and problems: the climate crisis, resource scarcity, water shortages, drought, natural disasters, malnutrition, diseases of civilization, and so on. These circumstances call for a high degree of adaptation and flexibility. But at Osnabrück University of Applied Sciences, we are not satisfied to sit back and be passive observers – we want to actively transform these challenges into positive opportunities, in keeping with the university's motto "Education with tomorrow in mind".
What if …?
… we developed innovative agricultural systems that are able to produce healthy and sustainable food in both rural and urban areas?
… we established a viable economy that focuses not only on companies, but also on social structures, thanks to participation and involvement?
… we were to design and produce sustainable food and nutrition in such a way that health, environmental, economic and social aspects can all be taken into account?
… we created the kind of sustainable urban and rural development that enables urban and rural areas to contribute to improving the quality of life?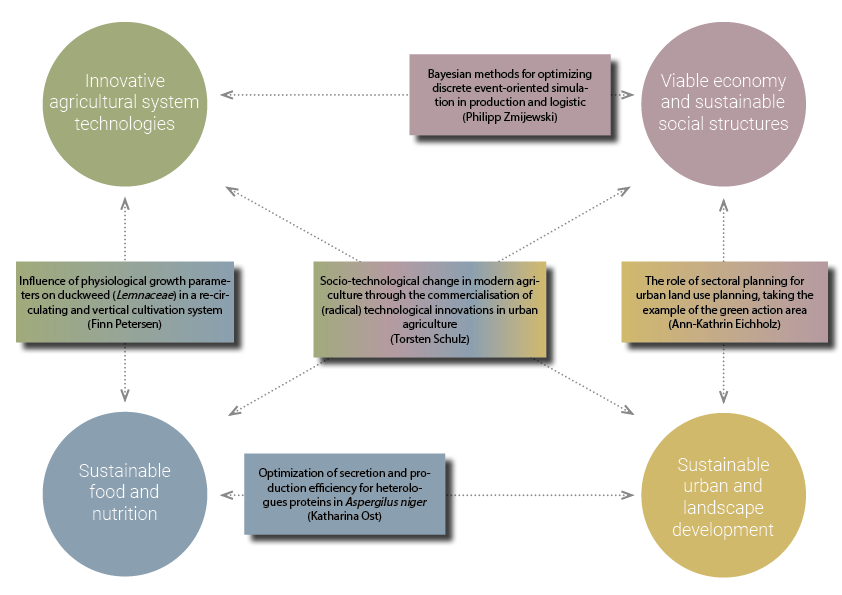 At Osnabrück University of Applied Sciences – where the green transformation is being tackled – we want to address these issues. With this objective in mind, we bring together professors from various fields, such as agricultural science, agricultural economics, nutrition and home economics, nutritional science, landscape architecture, and landscape development, to create an interdisciplinary consortium to meet these challenges. The diagram below shows dissertation topics that are assigned to the four key areas. Clearly, interdisciplinary work is already underway to find solutions to specific problems:
We would like to invite you – a talent in this field – to become part of this movement. No matter where you are in your professional career: Master students, doctorates, and postdoctoral researchers are all welcome, as are faculty members. The Talent Academy – Talents for Green Transformation it is open to all interested, committed, and inquisitive individuals who are driven to engage and collaborate on the major issues of transformation.
| | |
| --- | --- |
| Talent – Postdoc | My topic in the Talent Academy |
| Dr. Christian Frerichs | Optimization of nitrogen fertilization and management strategies in intensive vegetable production to reduce nitrogen emissions – dissertation topic |
| Dr. Finn Petersen | Influence of physiological growth parameters on duckweed (Lemnaceae) in a re-circulating and vertical cultivation system – dissertation topic |
| Talent * – PhD Student | My topic in the Talent Academy |
| Daniel Theidel | Physical-digital tools in the landscape architecture design process and their feedback/material tools in the design process – dissertation topic |
| Sascha Groß-Hardt | Smart traction – Development of a track and traction controlled chassis unit for agriculture tractor-trailer combinations – dissertation topic |
| Matthias Preusche | The impact of monoterpenes on the plant development of selected model plants in the indoor culture system – dissertation topic |
| Torsten Schulz | Socio-technological change in modern agriculture through the commercialisation of (radical) technological innovations in urban agriculture – dissertation topic |
| Ann-Kathrin Eichholz | The role of sectoral planning for urban land use planning, taking the example of the green action area – dissertation topic |
| Tobias Reuter | The use of digital decision support tools in the management of heterogeneous plant population in organic farming – dissertation topic |
| Katharina Ost | Optimization of secretion and production efficiency for heterologues proteins in Aspergilus niger – dissertation topic |
| Tobias Reineke | The use of wood fibers in horticultural growing media – evaluation of chemical, biological and plant-growing properties – dissertation topic |
| Christopher Jutz | A social practice approach to sustainable physical and virtual mobility in the educational landscape at the HS OS – dissertation topic |
| Philipp Zmijewski | Bayesian methods for optimizing discrete event-oriented simulation in production and logistic – dissertation topic |
| Marvin Vahl | Influence of abiotic factors and plant physiological traits on flowering of Vanilla planifolia – dissertation topic |
| Frauke Niemeyer | Doctoral topic not yet named |
| Christine Rother | Doctoral topic not yet named |
| Janis Bald | Doctoral topic not yet named |
| David Ruben Hagemann | Doctoral topic not yet named |
| David Richard-Guionneau | Doctoral topic not yet named |
| Jevana Rebecca Röhl | Doctoral topic not yet named |
| Talent – WiMi | |
| Tarik Ismail | |
| Ines Prehn | |
| Jannis von Salzen | |
* Sorted by work completion status